Selecting the best kind of mattress for back pain means you'll need a sleeping surface with ample support.
Like the rest of your body, your back requires proper alignment to prevent soreness and chronic injuries.
In this guide, we'll explore the best types of mattresses for back pain, as well as how you can choose the best ones.
What Do Doctors Recommend?
Did you know that back pain is one of the leading causes of loss of mobility in middle-aged people?
With back pain, not only will you find day-to-day activities more challenging, but your sleep will also be less comfortable.
In the past, doctors always recommended very firm mattresses for individuals with back pain.
These mattresses were expected to have an adequate amount of support to promote proper spine alignment.
Theoretically, they would help maintain perfect posture at night, reducing overall back pain and discomfort.
However, sleepers quickly found that very firm mattresses had too much support, leading to an uncomfortable night's rest.
On the other end of the spectrum, mattresses that were too soft had the same problem.
Although soft mattresses conform to your body's contours, having no support can be equally as problematic.
With that said, today, doctors most often recommend medium-firm mattresses.
Medium-firm mattresses have plushness paired with plenty of support to encourage proper alignment.
You'll also have the added benefit of cushioning, helping to alleviate pressure on your most sensitive joints.
Fortunately, most mattress types are available in medium-firm, allowing you to choose from the most popular varieties.
Best Kind of Mattress for Back Pain
There are three primary types of mattresses that you can choose from when conquering back pain: innerspring, memory foam, and hybrid.
Innerspring is by far the most popular, with hybrid at a close second.
Memory foam is comfortable but often doesn't have an adequate amount of support recommended for back sleepers.
Let's take a look at all three styles in more detail to help you make the perfect decision for your bedroom.
Innerspring Mattresses
There's no doubt that innerspring mattresses have considerably evolved compared to their designs decades ago.
Instead of being filled with uncomfortable metal springs, they feature unique engineering that offers hidden support.
Most innerspring mattresses boast pocketed and isolated coils that are relatively unnoticeable, even for heavy sleepers.
There are several great benefits that innerspring mattresses bring to your bed frame.
With their breathability and adequate support, they're a fan-favorite of those with back pain.
Benefits of Innerspring Mattresses
Some of the most notable benefits of this mattress type include:
There are plenty of sleepers who prefer bouncier mattresses because it's what they're used to.
They also offer a couple of other benefits, such as making it easier to get in and out of bed.
With a bouncier surface, you're less likely to sink into the mattress, which makes them easier to shift around on.
You might also find that moving from one position to another will be simpler on a bouncy mattress.
This feature is essential for combination sleepers who tend to move throughout the night.
Innerspring mattresses are also known to be some of the most breathable options on the market.
If you tend to get hot at night, you'll need a sleeping surface that moderates temperatures with ample airflow.
The internal springs in these beds help to optimize airflow through the materials, keeping the mattress cool.
If you've purchased a mattress-in-a-box in the past, you might have noticed the bed had an unappealing odor.
These odors are typically from the materials used during manufacturing, especially if they're memory foam.
Innerspring mattresses often have less memory foam, which reduces their off-gassing odor.
Not only does this make your sleeping surface smell better, but it also means your bed will be ready to use faster.
Even if you find an innerspring mattress shipped in a box, it's likely to expand significantly quicker.
With reduced manufacturing odors, you'll be able to add your favorite linens and get better sleep in less time.
When sleeping on your back, you must have uniformed alignment to reduce spinal discomfort.
With the uniform sleeping surface that innerspring mattresses offer, it's no doubt they're popular with back sleepers.
They're also remarkable for stomach sleepers, as your face won't sink into the mattress, nor will your hips.
It's easier to keep your spine in its natural position, encouraging adequate healing and comfort throughout the night.
With their versatile design, innerspring mattresses are a fantastic solution for most sleeping positions.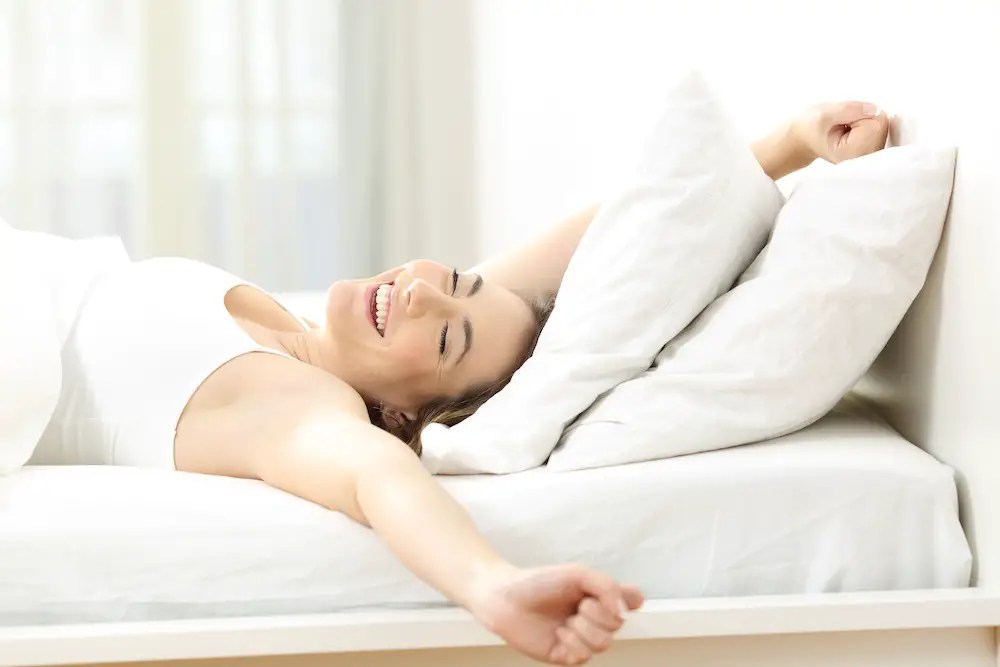 Hybrid Mattresses
Hybrid mattresses are an excellent option when looking for a medium between innerspring and memory foam mattresses.
These models contain both materials, offering plush sleeping surfaces that don't compromise support.
They're also highly recommended for co-sleepers, as they can accommodate all sleeping styles on one sleeping surface.
Benefits of Hybrid Mattresses
It's essential to consider their benefits to understand better why you should consider a hybrid mattress for back pain.
From its memory foam topping to the interior coils and springs, there are many advantages to be had.
One of the most notable benefits of hybrid mattresses is their slow-melting density that adapts to your body.
They don't have the typical sinking feeling from memory foam mattresses and aren't as structural as innerspring.
They fall somewhere in the middle, allowing for more bounce while also reducing motion transfer.
When you sleep on a hybrid mattress for the first time, it's easy to see why it's as popular as it is.
There's no doubt that memory foam is comfortable, especially when alleviating pressure on your joints.
With these mattresses, you'll have one to four inches of memory foam at your disposal, depending on the design.
The added memory foam warms to your body as you sleep on it, allowing the material to adapt to your body's contours.
The more often you use your mattress, the more it customizes to your preferred sleeping position.
Many people suggest that sleeping on memory foam feels like they have a cushion designed just for them.
Hybrid mattresses are unique in that they offer warmth and breathability when needed.
It's also possible to find mattresses designed explicitly for warmth or coolness, rather than both.
Most models are designed with unique engineering to allow for optimal airflow through their various layers.
You might also find your hybrid mattress has a comfortable, breathable cover that helps wick away moisture.
On the other hand, some hybrid mattresses are warm, which can be helpful for the colder months of the year.
With their innerspring core, you have ample breathability and some insulation with the help of its memory foam.
If you're looking for a solely cooling mattress, we recommend looking for hybrid models with cooling gel foam.
This type of foam features gel beads throughout the memory foam that stay cool, dissipating heat throughout the mattress.
At night, you'll find your body will have the soothing sensation it needs to reduce back pain.
The conveniences you'll experience with innerspring mattresses also make their way into hybrid mattresses.
Since both designs feature integrated coil or spring systems, you'll have the same amount of interior support.
With that said, their versatility is comparable, with hybrid mattresses having a slight edge.
The pocketed coils are fantastic for back and stomach sleepers, while the memory foam is convenient for side sleepers.
Not only will your spine have the perfect amount of support, but as will your hips and neck.
It's also likely that you can find these mattresses in a broader assortment of firmness based on your preference.
Since the individual layers of hybrid mattresses can differ, so does their support.
Soft mattresses typically contain higher amounts of memory foam or polyfoam, while firmer versions have less padding.
Overall, they're one of the most customizable mattress types you can get your hands on.
When sleeping on an innerspring mattress, there's always the concern of feeling the springs through the bed.
The more often you sleep on the surface, the less protective it becomes, eventually leading to discomfort.
Hybrid mattresses are specifically designed to avoid this problem, as they have added top layers.
These top layers act as a cushion between your back and the spring coils in the mattress.
Not only are you less likely to be poked and prodded at night, but these layers also prolong the lifespan of your mattress.
Memory Foam Mattresses
Although memory foam mattresses aren't the optimal solution for back pain, they're still notable.
The plushness of memory foam might not offer top-tier spinal support, but it undoubtedly alleviates pressure.
If you're looking for overall soothing rather than added support, memory foam is highly recommended.
Benefits of Memory Foam Mattresses
Let's dive into the many benefits of memory foam mattresses, as they could be the solution to your back problems.
Also, memory foam is known to help with other types of joint pain, especially around your most sensitive areas.
Memory foam's most significant advantage is that it conforms and adapts to your body's contours.
When sleeping on a memory foam mattress, it will feel like your bed is made specifically for you.
When your body heat transfers into your mattress, it softens the memory foam, which allows it to contour as needed.
You'll find that your body feels cradled in the material rather than supported on the surface like with innerspring mattresses.
With the plushness it offers, you'll be less likely to move around in your sleep, adding to the quality of your rest.
Also, memory foam reshapes itself after sleep, returning to its original position.
Adaptable To Most Sleeping Positions
If you have a co-sleeper, you'll undoubtedly want a mattress that works for both of you and stays comfortable.
With the unique adaptability of memory foam, you'll find it's a premium material for most sleeping positions.
Back and side sleepers will benefit the most, as it cradles your body within the material.
However, as a stomach sleeper, using a memory foam mattress can be slightly uncomfortable.
You might feel like you sink into the material too much, impacting the alignment of your hips and neck.
There's no doubt that memory foam is the clear winner when it comes to motion isolation.
Instead of springs, this highly dense material is phenomenal at absorbing shock from pets, kids, and your partner.
You'll be far less likely to wake up in the middle of the night from someone moving around in their sleep.
Also, since the material is so plush, you'll be less likely to move around in your sleep as well.
Memory foam mattresses are the type that you choose for an isolated, peaceful night's rest.
Memory foam is one of the softest bedding materials on the market, which is why it's so popular.
It will feel like you're sleeping on a cloud and is often preferred to pillowtop and Eurotop mattresses.
It's slightly more supportive than other plush materials but still feels equally as comfortable.
Although this isn't highly recommended for people with back pain, it can assist with overall discomfort.
Instead of feeling like you're sleeping on a rigid surface, you'll have plenty of plushness to put to good use.
You'll surely wake up in the morning feeling refreshed with the pressure-relieving foam at your disposal.
How To Choose a Mattress for Back Pain
Now that you know how an innerspring mattress can help with back pain, it's time to start shopping for a new mattress.
We've compiled a list of the most important things to keep in mind when you begin looking.
Padding and Springs
A common myth about innerspring mattresses is that the more coils they have, the better they are for back pain.
This point isn't always true, as too many springs can make a mattress too supportive and lack comfort.
Instead, you'll want to find a middle ground that contains an adequate number of springs paired with padding.
Just because the padding is known for being plush doesn't mean you should avoid it entirely.
You'll want to choose a mattress that contains high-quality padding, such as cotton batting or polyurethane foam.
With a good balance of padding and springs, you'll have comfort and support combined.
Stitching Quality
An often overlooked feature of high-quality mattresses is their stitching which considerably affects their quality.
Poor stitching can cause your mattress to rip at the seams, exposing its interior padding and spring system.
Always ensure you choose top-tier designs that have reliable stitching to prolong the lifespan of your bed.
Mattress Foundation
Apart from analyzing the inner layers of your mattress, its foundation is equally important to consider.
Foundations are a fantastic way for manufacturers to add extra support to a mattress, which your back will thank you for.
It's essential to find a model that has a thick and supportive base, whether crafted from added springs or other materials.
Coil Isolation
Mattress coils can be uncomfortable to sleep on if they don't have enough isolation.
Multi-layer mattresses can be preferable, as there are a couple of layers of material between the springs and the surface.
Also, it's important to look at how the coils are spaced within the mattress.
Perfectly spaced coils with insulation in between help evenly distribute weight across the surface.
This style of engineering ensures pressure is removed from your back and other parts of your body.
Also, it helps reduce the likelihood of being poked in the back by springs in the future.
The Mattress for Your Back Pain
When you start looking for the best kind of mattress for back pain, you should consider several things.
You can have ample support with the right innerspring mattress, while hybrid mattresses offer plushness and support.
Choosing the perfect style depends on your preferred sleeping position and how much support your spine requires.